First Wave of 2020 Memberships Shipped
April 20, 2020 @ 8:00 am

-

5:00 pm
The 2020 SCMBC tags and trail maps are being mailed out this week! Thanks to those who have already registered and supported our trail system.
Our tag color this year is white. We have utilized some tags from inventory so the logo designs may not match your neighbors. The youth tags are once again yellow. Please attach the tag to the bottom of your bike seat or on your backpack and wear with pride! 😀
We have some of the best trails in Ontario. We are incredibly proud of the efforts this club has made over the years and are thankful for the membership support. The club has built approximately 100 Km of trails to date and continue to build and maintain single track in Simcoe County for today, tomorrow, and generations to come.
Correspondence will be done through the club Facebook page, email and the SCMBC website. Stay tuned.
An important note about the trail map!!!!
The private property connector and trails as indicated on the map at post #s 16, 31, and 32 are closed!! This entire tract of land indicated on the map in a light blue colour is private and no one may ride this. The trail access points are blocked off.
In order to access Schumacher and Breedon Tracts y
ou must either park at the trailhead or ride the Bass Lake Side Road and 9th Line.
As previously posted to our members, in light of the current Covid-19 situation the club has made the decision to temporarily suspend any trail maintenance and builds, group rides or events. We will be basing when these efforts can be started, on the safety and Government regulations around Social Distancing and #Stayhome initiatives.
Thank you again for your membership support.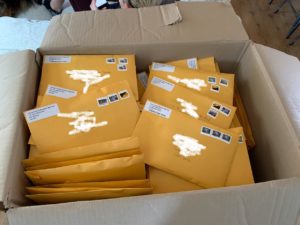 SCMBC Board
Marion Tistra – Acting Vice PresidentJoe Pearson – President
Fred Ross – VP of Operations
Erika Ross – Secretary
Joel Andrews – Regional Rep. of Midland
Ryan Russell – Regional Rep. of Oro
Rob Nishman – Regional Rep. of Christian Island
Rick Smith – Regional Rep. of Severn
Bryan Bollivar – Acting Regional Rep. of Barrie/Springwater
Mike Edwards – acting Regional Rep. of Tay