2022-23 SCMBC BOARD
Executive Board
President - Bryan Bolivar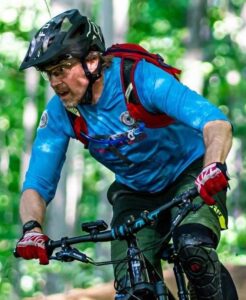 Bryan joined SCMBC in 2019 and was appointed as our Springwater/Barrie Rep later that year and has been an active member volunteering at trail builds as well as club social. His major focus to date has been the development and ongoing improvement of the Hickling Tract.
His favourite SCMBC trail to ride is Slessor/Silver Creek. Other favourite trails include Hickling with Horseshoe's State of Flow as a close second.
Bryan's future club goals: As President, his future club goals are to grow the good vibes of the club and maintain it as an organization that the local mountain bike community wants to support. He wants to do this through increased communication with board members, sponsors and membership. To quote him, "Mountain biking is wicked fun, SCMBC needs to be the same."
---
Vice President - Lance Levreault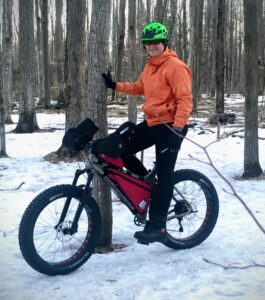 Lance has been an active member with SCMBC for 5 years and for the last year as our Vice President. With all of the beautiful flowing trails it was hard for Lance to choose a favourite. He loves Creeks in the winter on some nicely groomed white ribbon.
He has always lived his life in hopes that it brings more ups than downs, the exact opposite is how he feels about MTB trails.
Lance's future club goals: continue to watch this club grow, but my main goal is to get more young kids and families out riding together.
---
Vice President of Operations - Fred Ross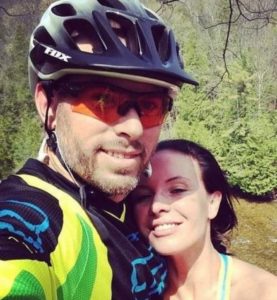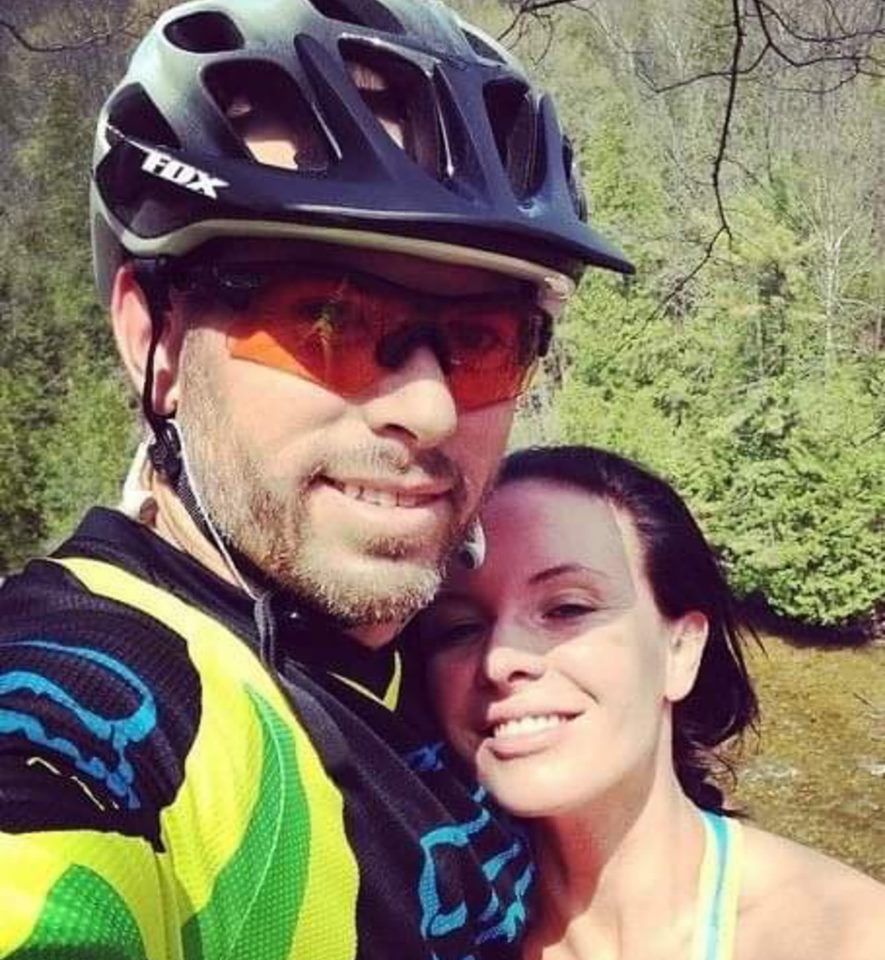 Fast Freddy they call him. Local shredder and one hell of a dedicated trail builder. Fred truly loves this community. It is said that trail building is contagious and you catch it from this guy! If he's not building a berm, he's likely living it up on his Pivot Firebird 29! Descending flow trail his style and sure digs tech and rock. Fast Freddy's favorite SCMBC trails are Breedon and Orillia for the berms and the Flow. His favorite ride destinations, Kingdom Trails and Victory Hill Vermont.
Fred is no stranger to the SCMBC, he has been heavily involved in trail building sometimes 7 days a week, he helped build creeks, Breedon, Amos, Crawford/ Sanderson, Silver Creek, Slessor, Midland and MORCA trails. Building Berms. Running club Instagram. Trail maintenance. Trail flagging. Assisting with membership packages.. he's done it all.
Fred's future club goals: continue to build great trails and improve them with greater knowledge, experience and a dedicated veteran team of builders. Create an inclusive MTB community for all, and work with Simcoe County and other local clubs to build our great sport.
---
Treasurer & Secretary - David McDonald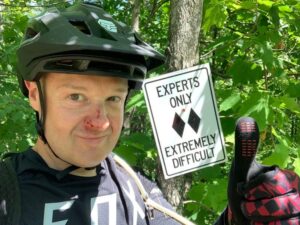 David's been a cycling advocate and club sponsor for many years now. As founder of Ontario Mountain and Road Bike Classifieds, and several other provincial mountain bike classified pages across Canada, biking is always on his agenda. A father of 3 young girls, they can be found rippin it up at the Midland Tip Trails or racing at local events. On rare occasions and if you're lucky enough, you may even spot this guy at one or two builds a year….mostly for the free food and beer!
---
Membership Chair - Michael Bayley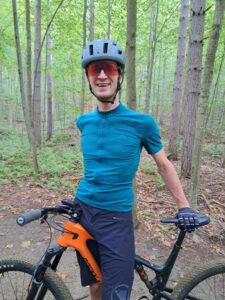 Michael started as a member in 2017 and became involved in Hickling builds then joined our board in 2022 as the members Chair. He has worked hard to mail the memberships out as soon as he's able and has already begun prepping for 2023 to getting passes out even faster. We're so very happy to have you on the board Michael!
His favourite SCMBC trail is Schumacher and his favourite trail to travel to is Histoire sans fin (Le Massif, Quebec.) He loves to shred on technical, tight rocky, trails. Michael hopes to bring in new SCMBC swag and ideas for future memberships.
---
Media Rep - Angela Gibson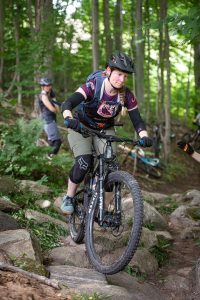 Angela started as a member in 2020 and became involved in builds then joined our board in 2022 as the Media Rep. She has been organizing socials and gatherings and increasing communication with members on social media!
Her favourite SCMBC trail is Schumacher. She loves to ride flowy trails and enjoy fun features as she learns to shred more technical trails. Angela hopes to continue increasing communication with members, gatherings, and engage members with builds and socials.
---
Webmaster - Lisa Sceviour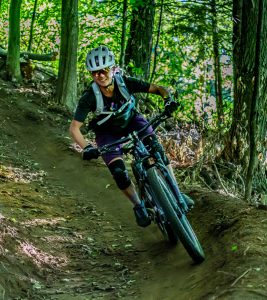 Lisa joined SCMBC when the club was formed and helped build Creeks, Breedon, Amos, Silver Creek and Slessor.  So many great friendships were made building these trails and today she mostly enjoys shredding with her friends and providing post build food to the Orillia build crew.
Lisa's favorite trail depends on her desire to flow, climb or navigate rocks and roots. Some of her favorite MTB destinations are Sedona, Moab, Bentonville and Quebec. 2nd to shredding Lisa's passions are pickleball, running and kiteboarding in her winter home (Baja Sur).
---
Regional Representatives
Director of Operations - Oro - Ryan Russell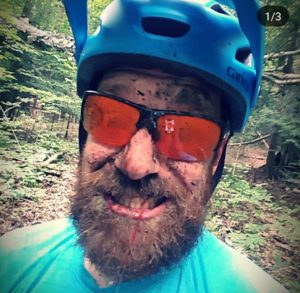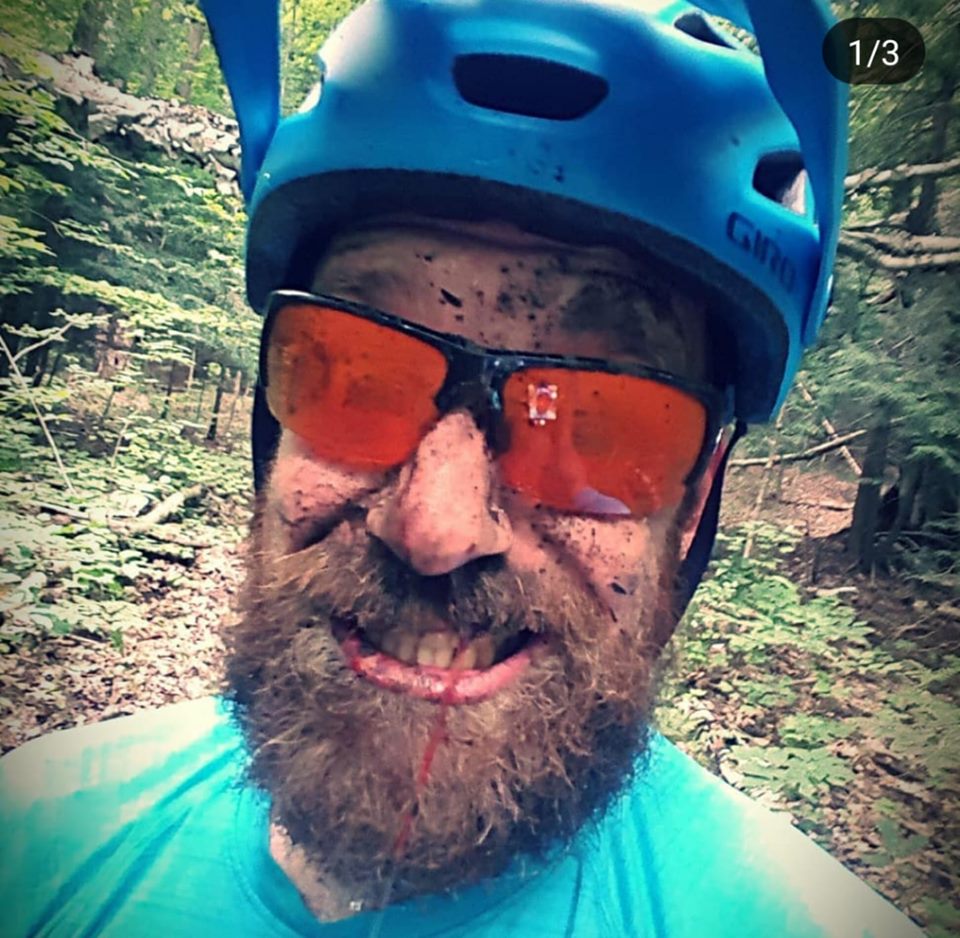 Known by many as "Russell" , Ryan is an Oro local. He and his family are active members of the community and lovers of all things trail related. He can often be found shredding the dirt ribbon aboard his Norco Optic or on his Trek Farley when the Ribbon turns white. He loves a hard "push or be pushed" kinda ride with the fellas and long epics when time permits. If asked his favorite SCMBC trail.. "Hutch Red from the 6th to 7th, there's just something about it that feels good" and his favorite riding destination with out a doubt.. SEDONA!!
Ryan has been an SCMBC member since 2014. This Dude is very thankful for those that have created this epic singletrack and community that exist today.. He feels strongly that singletrack is medicine for the soul as it has done wonders for himself and those he surrounds himself with in this great community.
He is stoked to work with this great board and membership to build relationships with riders, builders, land owners and local businesses to grow, maintain and protect our great trail network for generations to come.
---
Director of Operations - Severn / Ramara - Rick Smith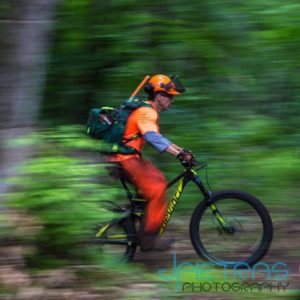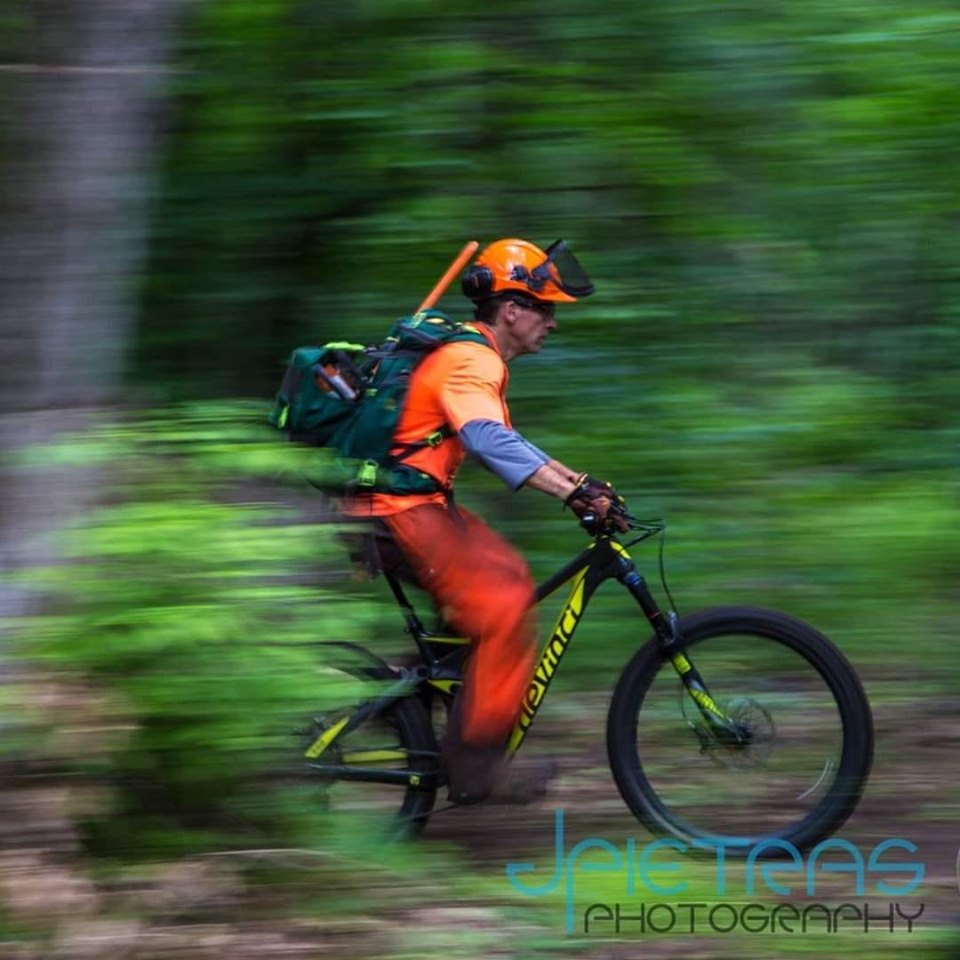 Rick a.k.a "Smitty" local and legendary trail builder extraordinaire, you may have noticed him hand in hand with a rogue hoe or perhaps behind the bars of a Devinci Spartan 29er, or a 27.5, Salsa Beargrease.. maybe a Norco Sasquatch, Rocky Mountain Switch Pro, Rocky Mountain RMX, Rocky Mountain RM6, Balfa BB7… clearly he has a thing for bikes! He's a big fan of all mountain, xc, DH, snow and sand riding, anything but the open road!
Ricks favorite SCMBC trail with many close 2nds is Breedon. His favorite destination.. Sedona, also with many close 2nds.
He's been sneaking in to help clear Simcoe trails since around 2004 and a member since the 2nd year the club was formed. He jumped in on official trail builds when Creeks was started and hasn't stopped building since.
Rick's future club goals: to help refresh the image of SCMBC, advocate to build more single track in Simcoe county and continue to make existing trail more fun. Nothing makes him happier then seeing a smile on the face of someone that rides, run's, hikes, or ski's, our trails, whether they are SCMBC members or not. It's so rewarding to him to be part of a crew that can make these smiles happen.
---
Director of Operations - Midland / Penetanguishene / Tiny - Joel Andrews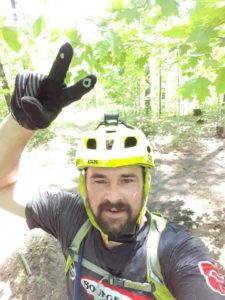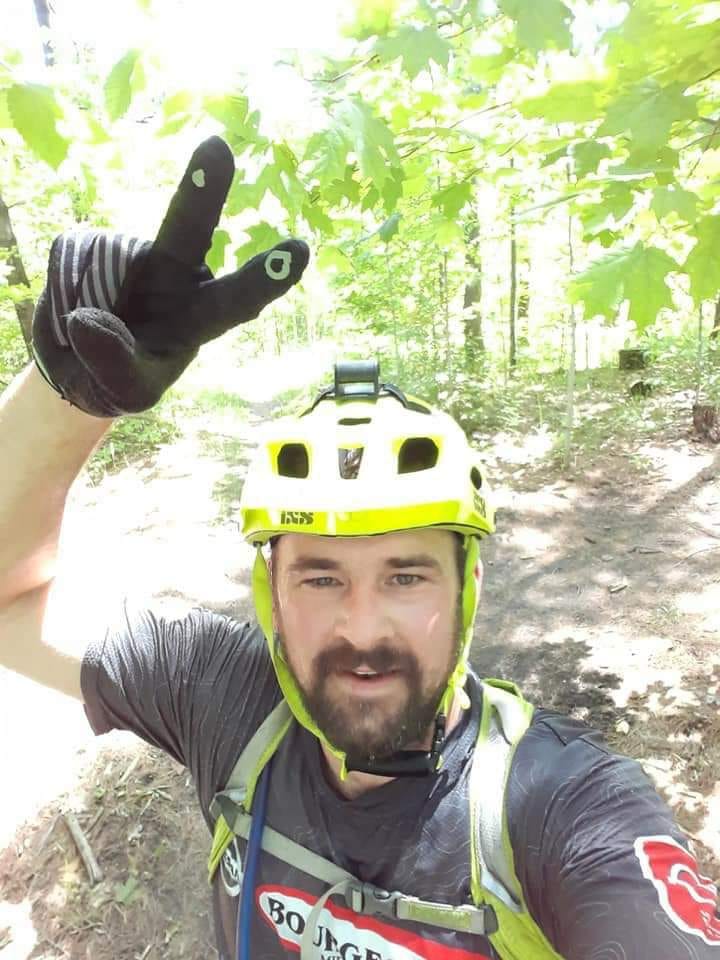 Joel represents Midland ON where he and his family reside. Joel digs everything from downhill to trail riding, a true fan of the dirt who you couldn't pay to ride road! Joel's trusty steeds are his Devinci Marshall and The Bigfoot fatty).
Joel has been an SCMBC member since the beginning and joined the board in 2015! His favorite SCMBC trails are the Silver Creek and Slessor Tracts and his favorite destination.. North Carolina Bovard.
He is an experienced trail builder who has made some great things happen with his dedicated crew who also loves to ride and explore!
Joel's future club goals: literally litter Simcoe County with amazing singletrack trail 🤙
---
Director of Operations - Christian Island - Rob Nishman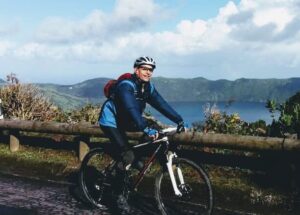 Rob a.k.a "Nish" represents Christian Island, check out on CKUN Nish radio of Christian Island . He's a big fan of endurance and XC racing as well as fatbiking on beach and snow! Rob keeps a fleet of bikes, among them are his Norco Bigfoot for the the beach/snow and his Revolvers for XC.
Rob has been an SCMBC member since the beginning and on the board for several years, involved in the maintenance of Douglas Lake Trail and the promotion of Christian Island riding. Creeks is his favorite SCMBC trail. Being a lover of the islands Rob's favorite destination is Azores and Bonaire of the Dutch Caribbean.
Rob's future club goal: to enhance day trip experiences, trail access and broaden SCMBC regional presence, with hopes that we can get visitor access restored to ride Christian Island post-pandemic.
---
Director of Operations - Oro West - Shawn Pilon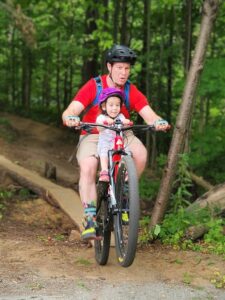 Shawn joined SCMBC in 2016 and was drawn to the MTB scene, building, riding, and socializing. In 2020 his family moved to Sugar Bush to be as close to the trails as possible and today, Tristin and Shawn have two sweet little girls, Tenley who loves riding shotgun on the MTB and future shredder Sloane!
2022 brought more changes as Shawn traded in his city job for a job close to home (and the trails!) This has allowed him to get more involved with SCMBC. Please welcome Shawn as our East Oro Rep!
His favourite local trail: ripping out his front door to Tustin, Crawford, Arbour, and into Hutch and beyond. It makes for a flowy Thunder Run. Shawn loves berms and rollers on many trails.
Shawn's future club goals: would love to get a toddler track in place for our early shredders riding push bikes. Something geared for shredders 2-year-old and up. Where they could shred laps on a tight circular course.
---
Director of Operations - Springwater/Barrie - David Hooper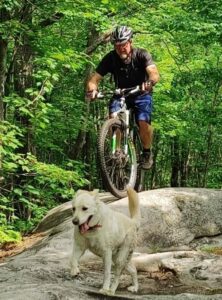 David was a rider and member of SCMBC for many years and in 2020 started building trails. His favouite trail? "I should say Hickling since this is my region but I really enjoy Creeks Favourite Trail."
David loves to ride smooth and flowy trails.
David's future club goals: continuing the work started by Bryan on fostering shared responsibility for trail maintenance and building our awesome Hickling loop. He hopes to see a groomer located in the Springwater region in the near future and would like to investigate future trails in the Springwater region when new trail building is permitted by the county again.
---
---
Contact Us - info@scmbc.ca